Plastic Bag & Plastic Film Recycling
Recycle clean, dry, flexible plastic here!
The Town of Canandaigua now offers plastic bag & film recycling at the transfer station. You can recycle clean, dry, flexible plastic here! Please place acceptable items in the yellow tote at the transfer station. Did you know there is a wide variety of plastic bags and films that can be recycled? Please see below for a complete list of acceptable items. These items should never be placed in your blue bin or included with zero sort recycling.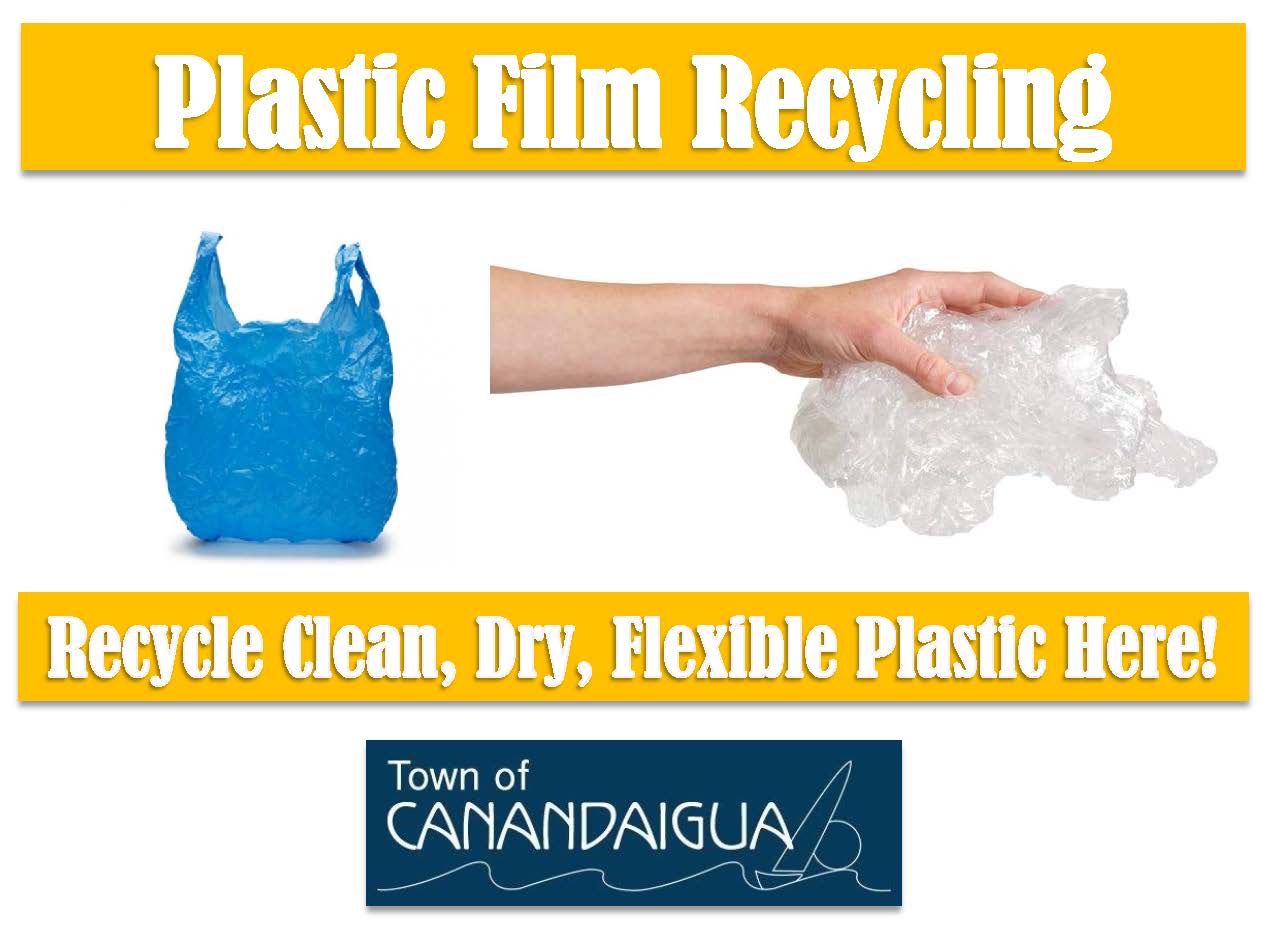 Acceptable, clean and dry: (Printable Flyer)
Plastic grocery bags
Bread bags
Zip-type food storage bags
Produce bags
Cereal/cracker box liners
Bath tissue and paper towel wrap
Plastic outer/case wraps (ex. water bottles)
Shipping pillows
Bubble wrap
Newspaper bags
Dry cleaning bags
#2 HDPE and #4 LDPE film only
Any items with How2Recycle plastic wrap icon
Not Acceptable:
Dirty, food soiled, or wet bags/films
Salad mix bags
Chip bags
Frozen food bags
Pet food bags
Resealable pouches
Reusable bags
Degradable bags
Garbage
Check out this video for more information about plastic film recycling:
TRANSFER FACILITY HOURS
Wednesday: 4:00pm - 8:00pm
Saturday: 8:00am - 12:00pm
Sunday: 8:00am - 12:00pm
Facility Address:
5440 Route 5 & 20 West
Canandaigua, NY 14424
Questions?
Contact us at (585) 394-3300
transferstation@townofcanandaigua.org
Please note: Town residents may drop off plastic bags and plastic films during transfer facility hours only. You must have your residency sticker on your vehicle for these services.
Always keep plastic films out of your blue bin. Help us recycle by placing acceptable plastic bags and films in the yellow tote at the transfer station.